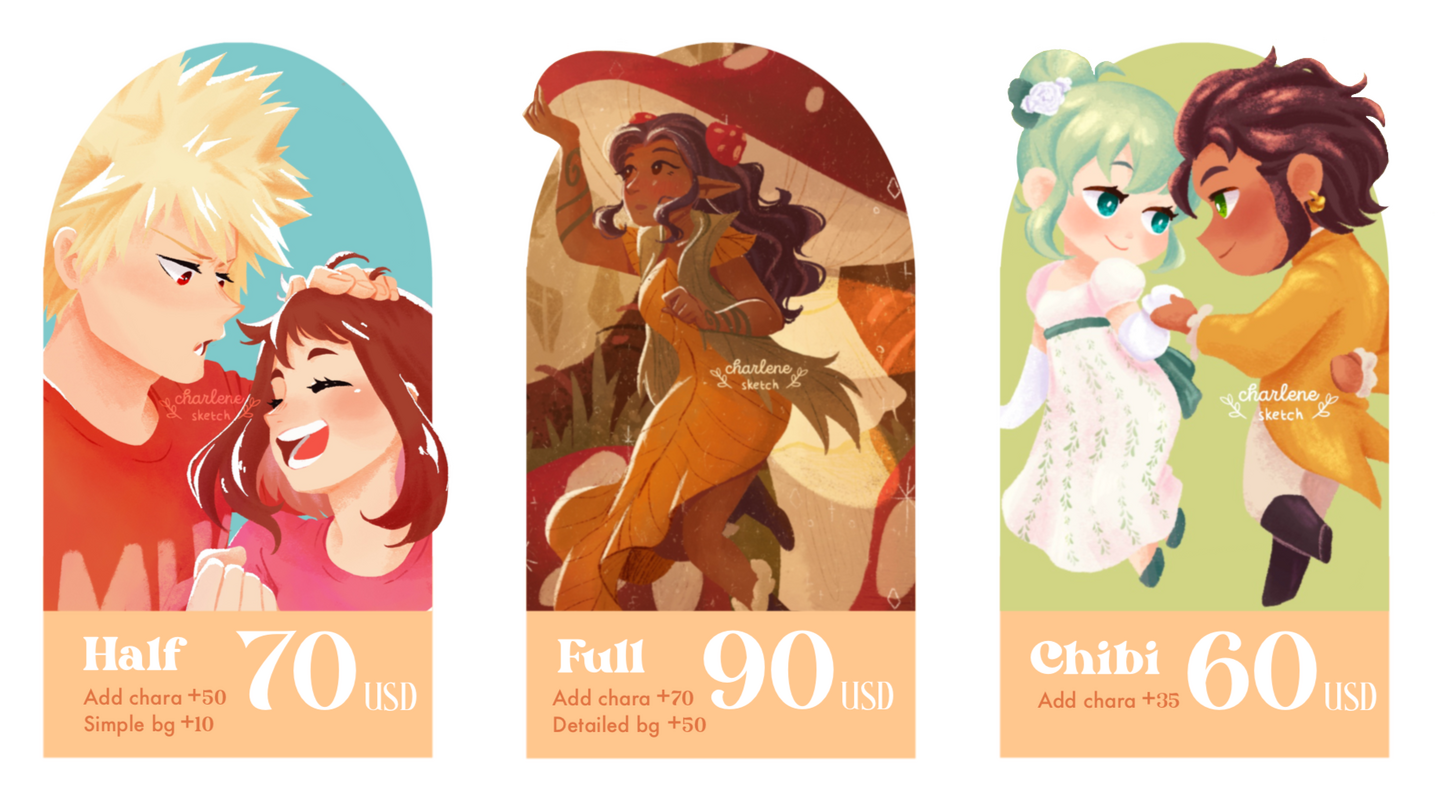 Illustration Rates
| Type of Illustration | Base Price (Single Chara) | Addt'l Chara |
| --- | --- | --- |
| Half body | 70usd | +50usd |
| Full body | 90usd | +70usd |
| Chibi style | 60usd | +35usd |
| Additional | Fees |
| --- | --- |
| Backgrounds | |
| plain single color | free |
| simple | +10usd |
| detailed | +50usd |
| Pets / Props | +20-35usd |
| Complex Designs | +20usd |
| Extra Revisions | +15usd |
Choosing an Art style
The client will select a type of illustration based on the choices provided.Consulting for a Concept
References, descriptions, and other details shall be provided by the commissioner before I begin the artwork. During this process, I reserve the right to refuse a commission for any reason, including if the commission's brief is out of my scope or if it has content I'm unwilling to create.Invoicing
After the consultation, the price will be decided based on the art style chosen and the complexity of the finished piece. I will provide a breakdown of the costs, especially if an artwork includes complex details or additional material (such as extra characters, backgrounds and props).
All payment is upfront unless otherwise agreed upon. An invoice will be sent before I start the artwork, and no work will begin until the invoice is paid.
** TERMS AND CONDITIONS **Schedules and UpdatesCommissions will be scheduled in order of payment. Those who settle their payment first will be scheduled first, and so on. Working time averages 3 months, not including weekends. Expect initial sketch updates 1-2 weeks after order confirmation. Any changes in schedule will be updated through Twitter DMs.*References __Commissioner is highly encouraged to give references of their requested characters and scenes. If a commission features real persons, you must provide me with photo references.The Commissioner must inform me if the artwork is for, about, inspired by or otherwise related to another fanwork such as fanfiction. In such a case, the Commissioner must have the consent of the writer.__Revisions and Refunds __I send out initial sketches before finalizing an artwork, and revisions are only allowed during this sketch stage. During the finalization stage, only minor revisions will be allowed. Any requests requiring drastic changes on the approved initial sketch will incur additional fees.No refunds are permitted if any work has already been started. If I have already accepted a commission and circumstances beyond my control make it impossible or otherwise difficult to finish the work, you will be entitled to a refund.__Rights and Usage *All commissions are for personal use only. Under no circumstances are the commissioned works allowed to be used for commercial purposes or in a commercial context.The Commissioner is required to give credit if they publicize the artwork, and any watermarks must be left unaltered.None of my artworks, commissioned or otherwise, may be used in any blockchain-related technology, including non-fungible Tokens (NFTs), cryptocurrency, or future technologies in this or any adjacent fields.I reserve the right to decline a commission.I reserve all rights to my artwork.
To request a commission, kindly fill up the form below.
You may include Google Drive links for reference images.
You can find some of my works in the form of merchandise like prints and washi tapes, I also dabble in crafting accessories like clay earrings.
Check out the links below to see more!
Unfortunately I cannot offer international shipping as of now, however you can purchase prints through my InPrint or order a custom artwork by commissioning me.Thank you for understanding!
Currently a work in progress! In the meantime, you can check out my twitter or instagram and say hi :)See you soon <3